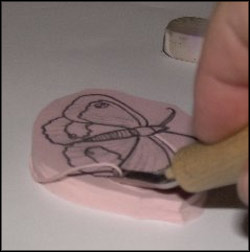 Make your own stamp and use it as your personal signature in the book inside the treasure box. There are many different kinds to chose from.
Carving is the most common form of stamp making. A soft wood, rubber eraser, or bottle cork are good for carving. After chosing a design to carve, draw it on the surface with a fine pencil or pen. Think carefully about which surfaces should be raised and will receive ink for the stamp.
Sharp carving tools helps to prevent injury. You can purchase tools at local craft shops. Never carve toward yourself.